Older news
28th October 2011
We're currently working on an application "agent" to collect statistics from various daemons on Linux/Unix platforms and inject them into SNMP for Observium. We've also added some basic smoke-ping integration. Cisco VLAN tracking has been fixed too.
8th September 2011
We've added real-time graphs for interface bits. Net-SNMP sadly only updates its counters every 15 seconds, but some platforms are capable of outputting data with sub-second accuracy. It works particularly well on bsnmpd. Thanks to the m0n0wall project for the graphing code.
6th September 2011
For those of you with lots of RAM and lots of RRDs, we've put together a guide for using a persistent RAM-disk as storage for your RRDs on Ubuntu/Debian Linux. Like all software recording the amount of data Observium does, we're very heavily hit by I/O bottlenecks, and this makes a *huge* difference.
5th September 2011
An early adopter and long time supporter of Observium, Geoffroy Rivat, passed away recently. The Observium team are glad to have known him and will miss his Frenchness and government-spotting. We wish his family well.
31st August 2011
The FLOSS Weekly show was great fun, and we'd like to thank TWiT, Randal and Dan for having us on the show and allowing us to spread the word.
http://twit.tv/show/floss-weekly/180
13th August 2011
The project leader (Adam Armstrong) will be a guest on the TWiT network show FLOSS Weekly on the 31st of August talking about Observium.
Check it out at http://twit.tv/FLOSS
The show is recorded at 09:30 Pacific time (17:30 UK or 18:30 European). The video and audio is broadcast live as it's recorded.
5th May 2011
Observium 0.11.5.2261 has been released. There are many changes which can be found in Changelog. Happy Cinco de Mayo!
18th April 2011
Lots of changes are taking place at the moment, primarily increasing the ease of navigation and cosmetics of the web interface on sections that have been long ignored, like BGP sessions, VRFs and Pseudowires. We're also looking at adding support for collecting data from OSPF, ISIS, EIGRP and RIP protocols where available.
1st March 2011
The observernms.org domain has been taken offline. If you are using the Subversion "release", please update your settings to be able to continue to update:
svn switch --relocate http://www.observernms.org/svn/observer/trunk http://www.observium.org/svn/observer/trunk

10th February 2011
Observium polling and discovery will most likely fail after an upgrade of your monitoring machine to Debian 6.0/Squeeze. This is not due to a bug in Observium, rather the decision of Debian not to ship SNMP MIBs with the distribution anymore (in keeping with their free licensing ideals). You can make it work again by enabling the non-free repository, installing the snmp-mibs-downloader package and having it download the MIBs from the internet.
Alternatively, you can have the snmp utilities use the MIBs delivered with Observium:
Remove this line in /etc/snmp/snmp.conf:
mibs :

and add the following line:
mibdirs /opt/observium/mibs

The Installation instructions will be updated shortly to reflect this.
01st November 2010
Work has been slow recently as the developers have been busy with work and real life things. There have been improvements to code quality and support for new devices. Thanks to Ove we've added MySQL and NGINX application polling support via SNMP with helper scripts.
04th August 2010
We're doing a lot of work on the graphing and sensor detection systems at the moment. With some assistance from Bill Fenner of Arista Networks we've been improving the ENTITY-SENSOR-MIB (and the almost identical CISCO-ENTITY-SENSOR-MIB) discoverer. We've also added graphing of remote access tunnels and IPSEC tunnel statistics via CISCO-IPSEC-FLOW-MONITOR-MIB and CISCO-REMOTE-ACCESS-MONITOR-MIB on Cisco IOS and ASA devices.
19th July 2010
Minor update, 0.10.7.1, to fix a missing configuration entry in 0.10.7 causing broken weblinks.
18th July 2010
We're trying to make more frequent releases, so here is 0.10.7. We've added a lot of OS types to the detection system, many cleanups for detection of Cisco/Brocade/Extreme hardware and graphing of ADSL-LINE-MIB. No codename this time as we've already got one new name this release!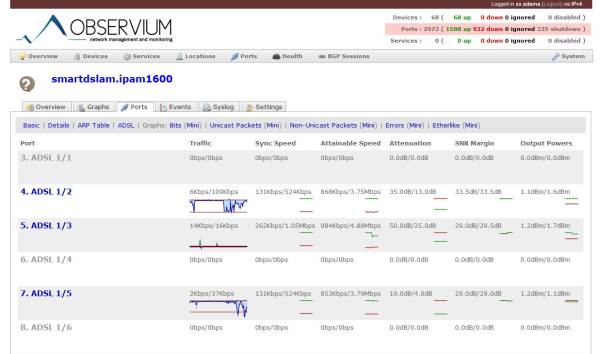 16th July 2010
We've changed the project name to Observium due to a potential trademark conflict with some commercial traffic analysis software. Please report any broken links or other unchanged aspects of the site.
21st June 2010
It's been a long time since we did a release, so here is Version 0.10.6, codename 'Goldfish' for those of you who don't use SVN. A lot of things have been moved around and cleaned up, support for polling voltages, current, frequencies, toner level, DISKIO-MIB. Lots of previously disparate polling for temperatures, cpus, memory, etc has been made more generic so it fits better into the web interface. We've also started to add support for application polling, with Apache added already.

3rd May 2010
Lots of work being done cleaning up old broken code and tiding up some little used features. We're moving a lot of logic into reusable functions to help consistency and ease development.
23rd February 2010
Thanks to the helpful donation of some SNMP-time on a Foundry MLX-8 from Niels at AMS-IX we've been adding Foundry Ironware support. Foundry's MIBs seem much better designed than Juniper and Cisco's attempts, so we hope to get a decent amount supported relatively quickly!
11th February 2010
A huge number of changes are taking place at the moment. Support for Juniper JunOS and Linux LM Sensors is being added thanks to a new developer, sid3windr. There should be a 0.10 release soon, but if you can't wait, try the current SVN.
22nd November 2009
Currently working on adding better support for Windows and ASA devices. Making a huge number of architectural changes to the polling and graphing systems. Please get any feature requests in for 0.7 soon!
28th August 2009
Version 0.6, codename 'Chocolate' has been released. The software is now getting to the point where I'd consider it useful for people other than myself and a small number of 'pioneers', so I've moved to 0.6. Major increments will now get a codename, and will signify possible database and rrd file changes. Minor increments will keep the same codename and should be drop-in replacements with few db changes.
5th August 2009
I'm working on adding more varied views and graph displays to Observium to aid in diagnosis of problems and tracking of traffic.
29th April 2009
I'm currently working on 0.6.0. There are lots of very important performance improvements (80% drop in load!) and feature enhancements. Below is an example of the CollectD integration I'm working on. It'll be available in 0.6.0.
Please note that Observium is moving to the GPL license to help promote integration with other Free Software projects.
25th March 2009
Version 0.5.1 has been released. Lots of bug fixes and the removal of some GPL licensed code (Observium is BSD-licensed!). Helper scripts will download the code which was removed. Everyone is encouraged to upgrade.
24th March 2009
Version 0.5.0 has been released. Lots of updates for those who're using the newer features. Observium should also behave much better if not installed in the webroot now.
13th March 2009
I'm currently working on version 0.5, which should add rough support for MAC accounting including linking to BGP peers, SVG-based clickable device link maps and improved presentation in a lot of areas. 0.5 should also add the ability for Observium to display and colourize Cisco IOS configurations collected by RANCID!
6th February 2009
We've moved domains to Observium.org. Another release is coming soon with a few fixes, cleanups and one or two new fixes, notably support for MAC accounting for peers on public internet exchanges!
Huge thanks to Jonathan De Graeve from Studenten Internet for adding support for alternative SNMP ports to observer. His patches will be included in the next release, and are already in SVN!
20th November 2008
I've released version 0.4.1 fixing a few bugs I've found in the last couple of weeks.
12th November 2008
I've released version 0.4. The database schema has changed, so you may need to drop the database, reimport the schema and readd your devices. Don't worry, rrd locations are the same!
05th November 2008
I've been working to clean up a lot of bugs and add some new features to Observer. Version 0.4 should be incoming pretty soon now.
11th April 2008
Just a screenshot to demonstrate some of the new IPv6 features
4th April 2008
I've added some basic detection and polling/graphing of Fortigate firewall devices. I've also added IPv6 address collection via SNMP, though the information isn't used anywhere yet.
29th March 2008
I've managed to deploy IPv6 across our network, so now I'm going to try to add IPv6 support to Observium!
27th March 2008
Observium 0.3.2 was released yesterday and 0.3.2.1 was released today to fix a bug preventing interfaces from being correctly added to the database. This release sees Observer beginning to leave Alpha quality territory and into Beta!
19th March 2008
I'm working on the default front page at the moment. It should give a nice overview of what's going on and what you should look at. Below is the current state of the page. I'm also considering providing a couple of different 'templates' depending upon what kinds of things you're monitoring, so it's more useful.
19th March 2008
I'm working on adding Netscreen support at the moment. All it does so far is detect them and add interfaces/ips. Hopefully soon it will poll them for data and generate some pretty graphs.
16th March 2008
I've added some basic BGP peer checking for Cisco IOS routers to Observium. It will record and graph updates from the peer, record their AS and try to resolve wether it knows about the peer in its device database (by checking the IPs it knows about).
24th February 2008
I've been adding some additional billing-related features to Observium. Specifically it will be able to aggregate the statistics of multiple ports into a single bandwidth bill using either Quota/Average, 95th %ile or CDR-style accounting. Data will be kept in the database in 5min increments making it usable for proper billing (as opposed to the existing RRDs which are not suitable!)
29th November 2007
I've just released 0.3.1 as I think enough things have changed to justify a major and a minor version change. Everything should now work under PHP5. The VMWware image is still coming!
1st September 2007
0.3 is coming along, I'm currently making it PHP 5.x safe before I release a new version. I'm also planning to create a vmware player image for quicker deployment in vmware environments!
24th June 2007
It's been far too long since I made a release, so here's 0.3.0-pre1! Lots of things have been changed, some new things are being discovered and graphed, such as temperatures and vlans. There is now the ability to give users access to single devices, though that still needs direct database manipulation. Hopefully 0.3.0 will be final soon and I'll have had time to do a web interface for users and permissions!
15th April 2007
Lots more work has been done tidying up the underlying polling system (which still needs lots of work :(). I've also written a basic vlan polling system to discover vlans on Cisco switches. Vlans are now shown on the port details section and in their own vlan section of the devices page!
7th April 2007
I'm getting 0.2.5 ready to release. Lots of internal changes have been made, including a reworking of the database, which is unfortunately incompatible with the old database. RRD filenames haven't changed (yet) though!
15th March 2007
I've just released 0.2.4 to fix a couple of installation and typo-related bugs. There are now one or two menu items which don't do anything, 0.2.5 should add functionality to those!
14th March 2007
It's just been reported that there are some errors in the 0.2.3 release, so I've disabled access to the source files. I'll track down and fix the problems and hopefully make a new release at the weekend!
05th March 2007
It's my birthday today, so I've just released 0.2.3! It fixes a couple of bugs which were introduced in the last release (some missing equals!). I've also added the ability to add/remove hosts from the web interface. To install, just untar it over your existing installation, it shouldn't break anything.
02th March 2007
I've been making a lot of progress in the last few days on the web-management side of things. I've added host add/remove/edit to the web interface and cleaned up the host removal functions quite a bit. I'll probably be releasing 0.2.3 sometime during the weekend or next week.
28th February 2007
I've just released 0.2.2! It's much better than the previous 0.2.1 release, but still quite far from general usage. We're using it at Vostron as our primary graphing system, compelte with its as yet unreleased customer-facing portal, so if you're interested in trying to deploy it properly, drop me an email!
23rd February 2007
I'm making progress cleaning up the code to hopefully make 0.2.2 a release worth trying! I even made a favicon!
5th February 2007
I'm now moved into my new house and have made some small improvements. A demo is available now at demo.observium.org. Many thanks to the people who are allowing me to poll their devices!
2nd February 2007
There hasn't been much progress this week, owing to the fact that I'm moving house. A number of small, but useful changes have been made and a new release will probably come next week or the week after!